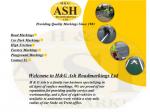 H & G Ash is a family run business specializing in all types of surface markings. We are proud of our reputation for providing quality service and workmanship, and a fleet of eight vehicles is available to undertake work within a sixty mile radius of our Stoke on Trent office.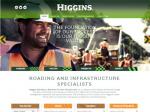 Higgins is a dynamic New Zealand owned civil construction business with a 'customer number one' focus and a team of over 1200 staff. Working in collaboration with clients, Higgins provides road urban and rural maintenance services within New Zealand and in Fiji.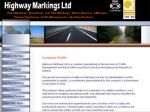 Highway Markings Ltd is a company specialising in the provision of Traffic Management and Road Safety products & services throughout the Republic of Ireland. We are an NRA approved contractor for Road Markings & Road Studs.