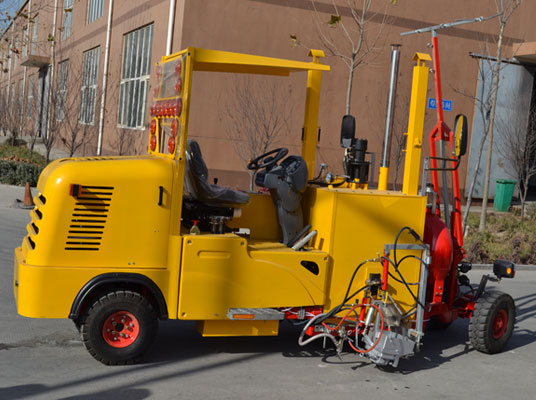 DY-MTSC-I/II middle driving-type thermoplastic screeding road marking machine is suitable for marking highway, urban road and local road with large construction square. Type I: pneumatic screeding flat line marking shoe. Type II: pneumatic screeding flat or convex line marking shoe.
EMAIL: This email address is being protected from spambots. You need JavaScript enabled to view it.TEL: +86-371-55635088
Technical Data
Model
DY-MTSC-I
DY-MTSC-II
Engine
35 kW diesel engine
Air compressor
0.6 m3/min
Heating Mode
Liquefied petroleum gas, infrared burner, automatic temperature control
Paint tank capacity
250 L pressure tank
Glass beads bin
120 L
Marking equipment
Pneumatic flat line marking shoe.
Pneumatic flat or convex line marking shoe
Standard configuration 150 mm
Marking width
100 mm, 200 mm, 250 mm, 300 mm (optional)
Marking thickness
1.8 mm - 3.5 mm (adjustable)
Bottom line 1.0 mm - 2.5 mm (adjustable)
convex height 3 mm - 7 mm (adjustable)
Control system
Digital intelligent control system
Dimensions (L*W*H)
4100 mm × 1900 mm × 2100 mm
Weight
2260 kg
Optional system
Guide warning screen, pre-marking system, and trailer
Features
Advanced hydraulic drive with infinitely variable speed control system, control and adjust speed more accurately.
Drive optimization design can control the machine more efficiently and safe in case of emergency.
Larger capacity pressurized paint tank and glass bead bin, keep the continuity of long-distance marking job.
Conduction oil and internal vertical hydraulic agitator ensures efficiently and evenly heating.
Screeding structure makes the markings more straight and beautiful.
Infrared furnace, save fuels more than 50%, 3 times thermal efficiency than normal furnace.
Sensitive, precise and stable computer control system, easier realizes all operations.
All directions warning system, ensures more safe during construction.
Pictures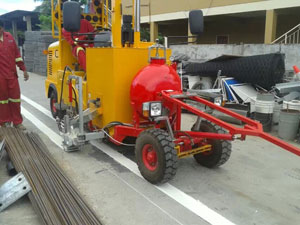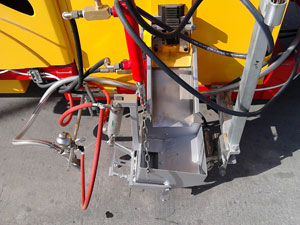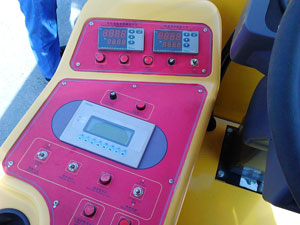 Enquiry Form