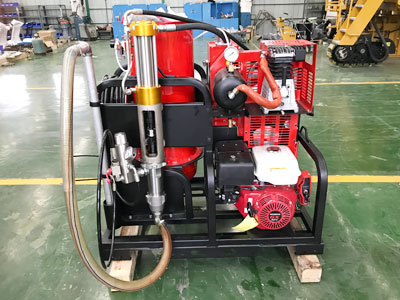 DY-TMAL-I/II Truck Mounted Cold Paint Airless Road Marking Machine is used for long distance marking. The machine should be installed in the corresponding position of the truck with the related spraying equipment, such as spraying gun bracket, guide rod and encoder.
EMAIL: This email address is being protected from spambots. You need JavaScript enabled to view it.TEL: +86-371-55635088
Category: DAYU Road Marking Machine > Road Marking Equipment > Cold Paint Road Marking Machine
Technical Data
Model
DY-TMAL-I
DY-TMAL-II
A
B
A
B
Engine
Kohler or Honda 13 HP gasoline engine
Air compressor
0.6 m3/min
Applied paint
Cold solvent paint, water-based paint
Cold solvent, water-based, two-component paint
Paint tank capacity
110 L
Glass beads bin
Without
110 L, spraying
Without
110 L, spraying
Paint pump
Double pump
Single pump
Single pump
Double pump
Maximum pressure: 25 MPa. Single pump flow: 20 L/min
Spray gun
Double pneumatic spraying guns, single manual spraying gun
Marking width
50 mm - 500 mm (adjustable)
Control system
Digital intelligent control system
Dimensions (L*W*H)
1130 × 1290 × 1410 (mm)
1110 × 1260 × 1410 (mm)
1130 × 1290 × 1410 (mm)
Weight
380 kg
455 kg
650 kg
735 kg
Optional system
Guide warning screen, pre-marking system, trailer, swing type, screeding type and two-component type
Features
Please mount the host and other related components on the corresponding positions on the truck prior to use. Road Marking equipment can be removed when it is not required, which doesn't affect the normal use of the vehicle.
Automatic hydraulic stirring system ensures uniform components of paint, furthermore improves paint performance and extends service life of paint coating.
Faster traveling speed does not require the additional transport. It is suitable to mark lines on roads, expressways and city streets.
New high-pressure airless plunger pump with big flow and stable pressure ensures efficient and high-quality road line marking work.
Marking width can be adjusted freely according to construction situation. All the spray guns can be controlled separately.
Sensitive, precise and stable computer control system helps achieve all the functions.
The user can choose to equip cleaning system to make sure that hose and spray guns are cleaned timely, or pre-marking system to pre-mark lines before or besides marking lines.
For type II 18HP engine can be equipped so that four pneumatic air spray guns can work at the same time to mark extra-wide lines at the airport.

Pictures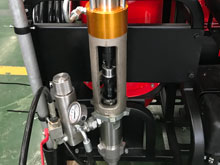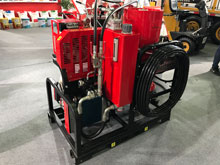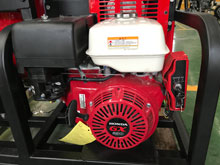 Enquiry Form